Decorate with light and elegant boheme colors and get the beautiful light and elegant dream home with a hint of boheme. But what does light and elegant boheme mean? It means that the style is light with pastel colors in a calm combination that creates a light elegant and pleasant decoration.
Try using rose pink, light grey, dusty mint and create calm contrasts with dusty green and warm yellow in order to create the light and elegant boheme feeling.
This fantastic color combination consists of both the light pastel colors in baby pink, dusty mint, light grey and baby blue that all give a light look with contrasts that do not dominate but rather, compliments the soft pastels so a light elegant boheme atmosphere is created.
When wanting to decorate to create a certain feel, it is always a good idea to stick to a color palette. By doing so, it becomes a lot easier to decorate the home, find lamps, table books, pillows, lighting, posters and other decorations. Also, you get some kind of framework for the decoration of your home so it doesn't turn out having too many different colors and styles.
One advice for the light and elegant dream home with a touch of boheme is to paint a wall in one of the beautiful light pastel colors grey, mint, baby pink or baby blue. In our showroom in Roskilde, Denmark, we have painted 3 different exhibition walls that all offer a different look and feeling than just a plain white wall when placing different posters on them. It is incredible what just a single colored wall does to a room. Even though it is just a delicate pastel color, it changes the entire look of the room and it contributes to the boheme style. And though it may seem overwhelming to start painting a wall in your home, it is a lot easier than it seems. Once you have painted the wall, I cannot promise that you will not do it again because it can become kind of addicting to experiment with new colors in combination with your posters and furniture.
In this example to the right with light and elegant boheme colors, I have presented 5 of our lovely posters.
In the left corner is the really beautiful and large exhibition poster from the exhibition with the Swiss architect, Le Corbusier in 1987. The exhibition was exhibited in the art museum of Northern Jutland, now know as Kunsten. The motif is quintessential modernistic art with odd brush strokes that collect experimenting elements in a familiar way. The motif is called "Secret" which indicates that there is something secretly going on in the motif. The poster has the loveliest colors and fits the light boheme style very nice because of the motif's relaxing style and colors.
In the right corner is the beautiful motif "Peach", painted by the Dutch artist Jean Bernard, in the nicest dusty green, almost grey, tones that together with the nice pink strokes makes the motif velvety soft and really beautiful. And unbelievably, the motif was painted in the end of the 18th century.
In the bottom left corner is the nice and funny motif "Die hexe mit dem kamm", drawn by the German-Swiss artist Paul Klee from his time as teacher at the Bauhaus School. Paul Klee is known for paiting motifs that are perceived as imperfect and naive. However, this is what makes his motifs so familiar and "easy" to hang on the wall by itself or together with other beautiful art motifs.
In the bottom right corner is the Dutch artist Theo Van Hoytema's very beautiful "Lente", which is translated to spring. Theo Van Hoytema is known as an illustrator and graphical designer and he has e.g. illustrated H. C. Andersen's "The ugly Duckling" back in 1893. The beautiful thing about this motif is the way in which spring is interpreted and illustrated. In a wave of the nicest yellow flowers, the motif offers the same spring feelings as it did over 100 years ago. Both the color and the style of this nice Theo Van Hoytema fits so well into a light and elegant boheme interior design and gives both lightness and a nice and soft contrast to the nice pastels.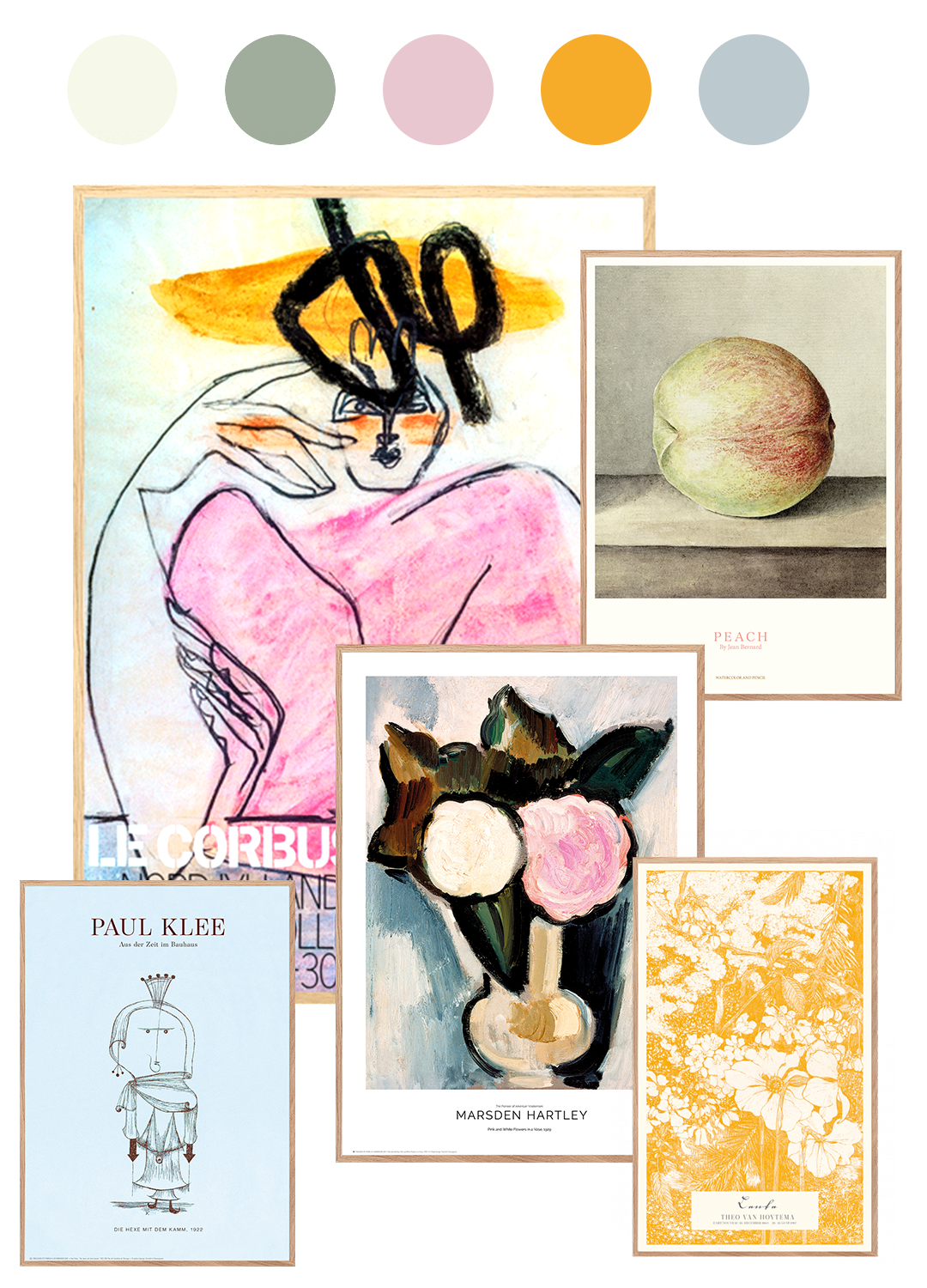 In the midlle is the american art painter and poet Marsden Hartley's beautiful flower motif, "Pink and White flowers in a vase" from 1929. According to the art institution Louisiana, that has had a great retrospective exhibition about Marsden Hartley, he is represented as "America's first big modern painter in the 20th century". He is particularly known for his use of strong colors and motifs full of emotion. Marsden Hartley was a very acknowledged man in both America and Europe which is why his works are perceived as a bridge between the European and American modernism. His incredibly beautiful motif "Pink and White flowers in a vase" fits the relaxed boheme style very well. Though the flowers are bombastic, there is something very delicate and almost velvety soft about the colors. The colors are really fantastic. The more you look at the motif, the more colors seem to become apparent and it is a really beautiful motif to have.
The 5 posters I have included in this blog post is just an example of a comination of posters that fit well into the light and elegant boheme interior design. We have many other beautiful posters that would also fit this color combination perfectly. Deciding whether they will be put closely together on a gallery wall or placed around the room completely depends on style and mood.
If you wish to decorate with light and elegant boheme colors, I have linked to more of our beautiful posters below that will all fit this boheme style perfectly.
More poster suggestions for decorating with light and elegant boheme colors:
CIRCUS GIRL
JAPANESE WOODCUT. KUNISADA. LIGHT BLUE
THE GENUS IRIS
JAZZ POSTER – TRIBUTE TO GERRY MULLIGAN
JAPANESE WOODCUT. KUNISADA. MINT
OGAWA KAZUMASA - LOTUS