Decorate with funky feminine colors, and get the beautiful and colorful dream home. But what does funky feminine mean? The title Funky and Feminine means that the style is both feminine and colorful with amazing pastel colors and contrast colors, that creates a more expressive decoration.
Jump in and use pink, mint, aubergine, blue and sand, and create that funky and feminine style. This beautiful color combination contains both light pastel colors (mint, pink, and sand) that gives a light and bright expression, but are also characterized by the darker colors like aubergine and darker blue, which creates the most amazing and fantastic contrasts, that helps provide a more dramatic completion to the room.
(read more below)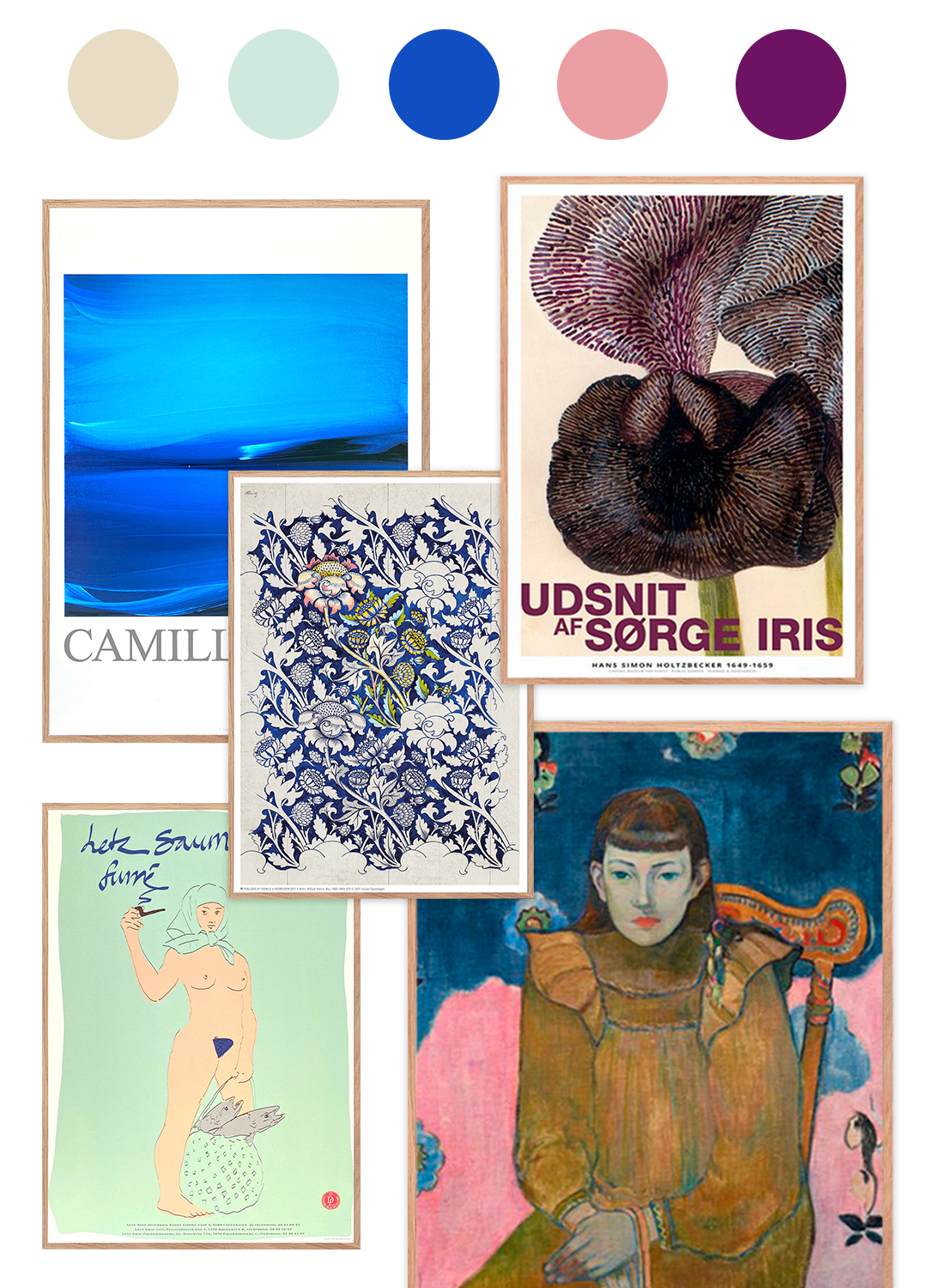 When you want to decorate with colors, it is always a good idea to have a color spectrum/color palette, to stick to. It makes it much easier to decorate your home, and find the right lamps, tables, books, pillows and posters. You kind of "frame" the decoration, which prevents yourself from mixing many different colors that does not match.
A tip for the funky and feminine decoration is to paint a wall in the light pastel color, sand, mint or pink. In our showroom in Roskilde, we have painted three different exhibition walls, to show how the motifs of the posters change their colors and expressions, when they hang on a colored wall, instead of a normal white wall. It is incredible what one colored wall does to a room, even though it is "just" a pastel color. It may sound unmanageable to paint an entire wall in your home, but it actually is a lot easier than you might think. When you have tried it once, you probably want to do it again, after you have realized the possibilities of colored walls, and the new expression and colors it brings to your posters and pictures on the wall.
In our example with funky and feminine colors in the decoration of the home, I have presented five of our beautiful posters. In the left corner is the amazing blue poster, with the almost dreamy, abstract motif by Camilla West. Camilla West is an extremely talented Danish artist, who is educated at Fyns Kunstakademi, and her original works can be seen at Galleri Nijenkamp in Odense, Denmark.
In the right corner you see the wonderful motif "A slice of grief iris", painted by Hans Simon Holtzbecker. Unbelievably as it sounds, the picture is actually painted in the 1600s. The aubergine color tones are amazing, and the more you look at this motif, the more you fall in love with it.
In the right corner is "portrait of a young girl" painted by the French artist, sculptor and graphic artist Paul Gauguin. Paul Gauguin is seen as the originator of primitivism, which is characterized by use of strange and different body propositions, geometric shapes and strong contrast colors. Primitivism was further developed by the famous artist Pablo Picasso and Matisse, who caught people's interest in primitivism for good. Paul Gauguin was married to the danish woman Mette Sofie Gad, and actually lived in Copenhagen for a short period. "Portrait of a young woman" can be compared a little with Mona Lisa - is she happy or sad? It is hard to tell. The poster has the most beautiful color composition of pink, blue and fine small mint colored flowers. The funky and feminine color spectrum is represented in the lovely poster from Ordrupgaard.
In the right corner you see the wonderful Peter Kjær-Andersen poster called "Letz Saumon Fumé" which means "Letz Smoked Salmon". Peter Kjær-Andersen is the same artist who is behind the well-known motif "Choucroute", which also fits into the funky feminine color composition. "Letz Saumon Fumé" is also available in a bigger size, 70 x 100 cm. If you wish to let the mint color be the dominant color, "Letz Saumon Fumé" is the obvious choice.
In the middle is the English artist, textile designer and author, William Morris, who is the man behind the amazing motif, with the feminine shapes and beautiful colors. Another incredible motif that you just can not stop looking at. William Morris is mainly known for his big amount of beautiful and unique flower patterned textile designs. He fought his fight for the old techniques to be admired, and recognized as art available for the middle-class. Even though William Morris is mainly known for his textile designs, he also painted many beautiful portraits, like the probably most known of them all called "La Belle Iseult '' from 1858.
The five posters that I have brought here, are only suggestions for compositions of posters, that fits into the funky and feminine decoration. We have many other very beautiful posters, which would also fit perfectly into the amazing color composition. It is for you to decide whether they should hang apart from each other, different places in the room, or next to each other on a gallery wall. Both solutions can result in a fantastic, funky and feminine look.
If you wish to decorate your home with funky and feminine, take a look at the beautiful posters linked below, that fits perfectly into the style.
More suggestions for posters in the decoration with funky and feminine colors.